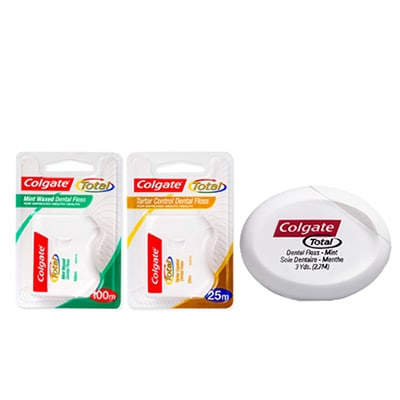 Colgate Total

®

Dental Floss
Colgate Total® Dental Floss for interdental plaque removal
Contains a coating of natural wax to slide comfortably between teeth.
Available in 2.7m trial size (waxed only), 25m for patient at home use and 137m surgery size dispenser (waxed only).
The use of dental floss is proven to remove up to 80% more plaque between teeth when used as part of your daily oral care regime 1.
Colgate Total Dental Floss for interdental plaque removal

Contains a coating of natural wax to slide comfortably between teeth.

Available in 2.7m trial size (waxed only), 25m for patient at home use and 137m surgery size dispenser (waxed only).



The use of dental floss is proven to remove up to 80% more plaque between teeth when used as part of your daily oral care regime1.


PRODUCT CHARACTERISTICS

PRODUCT BENEFITS

Resistant to shredding, fraying and tearing
Slides more easily between teeth than conventional waxed floss2
Effective interproximal plaque removal

1. Council of Dental Therapeutics, ADA, Accepted Dental Therapeutics, (1994); 40: 222
2. Colgate Palmolive, Data on file

INDICATIONS AND USAGE

Colgate Total® floss was designed to make daily flossing easy and comfortable for patients. Advanced-technology floss that slides easily between teeth without shredding.

1. Council of Dental Therapeutics, ADA, Accepted Dental Therapeutics, (1994); 40: 222
2. Colgate Palmolive, Data on file

FLAVOURS AND SIZES

Description
Colgate Total Floss, Mint, 3 yd.
Colgate Total Ribbon dispenser, 137m.
Colagte Total Dental Ribbon, 25m
Colgate Total Tartar Control Dental Ribbon, 25m

DESCRIPTION

Colgate Total floss is advanced-technology floss that slides easily between teeth without shredding.

DIRECTIONS

Dentists and hygienists recommend brushing and flossing daily to help maintain strong teeth and healthy gums. Daily flossing will help to keep plaque from building up and remove food particles from hard-to-reach places between teeth and around the gumline.

Break off about 18" of floss and wind most of it around your middle fingers.
Carefully slide floss between your teeth, using a gentle sawing motion, until it reaches the gumline.
Scrape the sides of the tooth by moving the floss up and down.

1. Council of Dental Therapeutics, ADA, Accepted Dental Therapeutics, (1994); 40: 222
2. Colgate Palmolive, Data on file