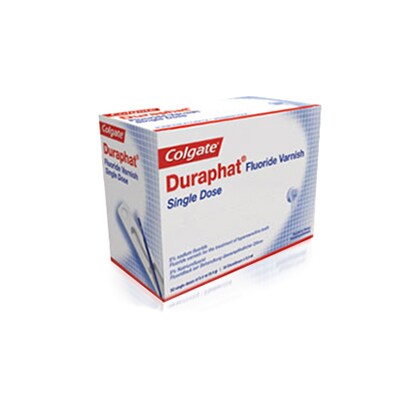 High fluoride concentration for dentine hypersensitivity relief.
PRODUCT CHARACTERISTICS

High fluoride concentration 22,600ppm F (NaF) for dentine hypersensitivity relief

PRODUCT BENEFITS

High adhesion even on moist surfaces for quick and easy application
Good taste for enhanced patient acceptance
Application control and white finish
50 x 0.4ml single doses in a carton

For complete prescribing information, refer to the Information tab

HOW IT WORKS

1. COMPOSITION

1mL suspension contains 50mg sodium fluoride, equivalent to 22600 ppm F, in an alcoholic solution of resins.

2. INDICATIONS

For the treatment of dentine hypersensitivity.

3. METHOD OF APPLICATION

Colgate® Duraphat ®Varnish Single Dose is designed to be applied by the dental professional, and is not for self-medication by the patient.

4. CONTRAINDICATIONS

Ulcerative gingivitis and stomatitis. Product should not be used in patients allergic to colophony and colophony-derived ingredients.

5. PRECAUTIONS

Oedematous swellings have been reported only in rare instances in some fluoride varnish products, especially after application to extensive surfaces. Nausea has been reported when extensive applications have been made. If required, varnish film can be removed with a thorough brushing. Dyspnoea, although extremely rare, has occurred in asthmatic children.

6. INTERACTIONS WITH OTHER DRUGS

When Colgate® Duraphat ® Varnish Single Dose is applied, other fluoride preparations such as fluoride gels should not be administered during the same day.

7. INSTRUCTIONS FOR USE

Before applying Colgate® Duraphat ®Varnish Single Dose, excess plaque should be removed and the teeth dried. Mix well prior to application. Apply product with supplied brush in the conventional manner. Instruct the patient to avoid solid foods, alcohol, brushing and flossing for 4 hours after application.

8. PRESENTATION

Box contains 50 single doses of 0.4 mL (0.4g), raspberry flavour.

9. STORAGE

Store at room temperature. Do not use after expiry date printed on the package. Keep out of reach and sight of children

Two years if unopened. Please refer to use by date on pack.

Colgate® Duraphat® Varnish Single Dose should be applied as a thin layer to the most susceptible surfaces of dentition. Patients should not brush the teeth or eat food for 4 hours after treatment. Apply 2 or more times a year as required.


No. Colgate® Duraphat® Varnish Single Dose is to be applied by a dental professional.


Colgate® Duraphat® Single Dose provides relief from dentine hypersensitivity, forming calcium fluoride globules which occlude dentine tubules.

Related Products
Colgate Duraphat Varnish

Colgate Duraphat fluoride varnish contains 22,600 ppm fluoride. It is quick and easy to apply, and sets rapidly in contact with saliva, resulting in patient comfort and acceptance.

View product

»