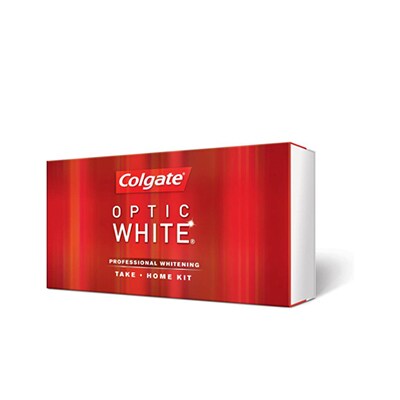 Colgate Optic White Professional offers a complete whitening system for your patients needs.
The range includes:
A premium portable 4-Syringe kit (12.44g)
A conventient 2-Syringe kit (6.22g)
PRODUCT CHARACTERISTICS

Enhances retention on tooth surface.
Allows the hydrogen peroxide to rapidly break down intrinsic and extrinsic stains.
Helps prevent dehydration of teeth
Contains 0.25% w/w sodium fluoride

PRODUCT BENEFITS

Visibly whiter teeth in 3 days*
Easy 30 minute once a day wear time
Clinically proven whitening efficacy*
Available in 6% w/w hydrogen peroxide

*Mohan et al: Journal of Dentistry 36 (2008) 21-26


1. COLGATE OPTIC WHITE PROFESSIONAL 6% W/W HYDROGEN PEROXIDE 4-SYRINGE KITS AND 2-SYRINGE KITS ARE ONLY AVAILABLE THROUGH DENTAL SURGERY.

1.1. POSION:

KEEP OUT OF REACH OF CHILDREN.
Store at room Temprature.
Avoid prolonged exposure to temperatures above 30ºC.
Made in USA.
Read safety directions before opening or using.

1.2. CONTENTS:

1.2.1. 4-SYRINGE KIT:

4 Colgate Optic White Professional syringes
Mouth storage case
Patient instructions
Sleek portable case

1.2.2. 2-SYRINGE KIT:

2 Colgate Optic White Professional syringes
Patient instructions

1.3. SAFETY DIRECTIONS:

Irritant. Avoid contact with eyes.

1.4. FIRST AID:

For advice contact a Poisons Information Centre on 131 126 (Australia) or 0800 764 766 (NZ) or a doctor. If swallowed, do not induce vomiting. If in eyes, hold eyelids apart and flush the eyes continuously with water. Continue flushing until advised to stop by the Poisons Information Centre or a doctor, or at least 15 minutes. If skin or hair contact occurs, remove contaminated clothing and flush skin and hair with running water.

1.5. DIRECTION FOR USE:

DO NOT SWALLOW. Use as directed by your dental professional. This product is distributed by your dentist. If discomfort occurs, discontinue use and consult your dentist.

1.6. PRECAUTIONS:

Do not use if pregnant or nursing.