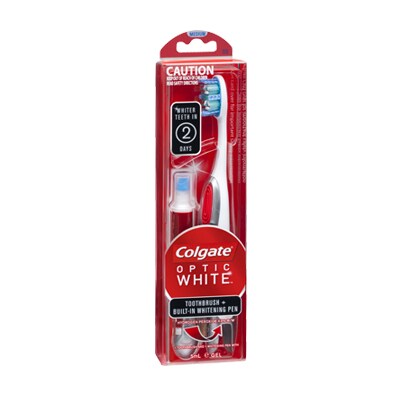 Colgate Optic White
®
Toothbrush + Built-In Whitening Pen
A convenient way for your patients to get whiter teeth at home, in just 2 days.*
The range includes:
A premium portable 4-Syringe kit (12.44g)
A conventient 2-Syringe kit (6.22g)
PRODUCT CHARACTERISTICS

Specially designed with polishing bristles and stain removers to help remove plaque and surface stains
Raised bristle cleaning tip provides better access to posterior areas
Cheek and tongue cleaner helps to remove odour-causing bacteria, leaving your patients with a whole mouth clean
Contains the same whitening ingredient dentists use, but in a lower strength 4.5% formula

PRODUCT BENEFITS

Whiter teeth in just 2 days with the Colgate Optic White

®

Toothbrush + Built-In Whitening Pen*

*For best whitening results, continue to use as directed.

DIRECTIONS FOR USE

Brush

Brush with your regular toothpaste. The Colgate Optic White® toothbrush is specially designed with polishing bristles and stain removers to help remove surface stains.

Whiten

Apply gel to each tooth, no waiting, no rinsing. The whitening pen contains the whitening ingredient dentists use, in a lower strength formula for regular use. Do not swallow. For best results, use twice daily for the initial three days then continue to brush normally and only use gel as needed, following the recommended dosage, until the pen is empty.

Go

Store pen inside brush.

SAFETY DIRECTIONS

Irritant. Avoid contact with eyes. Avoid contact with gums. NOT TO BE TAKEN. Do not use with children under the age of 12.

Whitening pen is not intended to whiten caps, crowns, veneers, fillings or dentures.
Related Products
Colgate® Optic White®

Colgate® Optic White® Toothpaste Goes Beyond Surface Stain Removal to Deeply Whiten Teeth

View product

»

Colgate® 360°® Ultra Compact Head

Designed for a whole-mouth clean, Colgate® 360°® includes revolutionary features to clean teeth, cheeks, and tongue.

View product

»