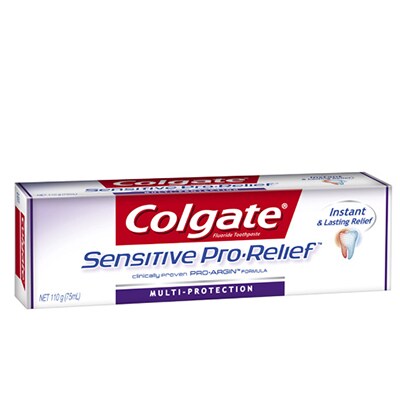 Colgate

®

Sensitive Pro-Relief

TM

Toothpaste
WITH PRO-ARGIN™ TECHNOLOGY
Colgate® Sensitive Pro-ReliefTM Toothpaste with Pro-ArginTM Technology is the first toothpaste that is clinically proven to provide instant & lasting relief from dentine hypersensitivity.
PRODUCT CHARACTERISTICS

Unique Pro-ArginTM technology based on natural process of tubule occlusion.
Helps intercept pain stimuli such as tactile, pressure and cold air.
Clinical studies published in peer-reviewed journal.
With 1450ppm fluoride as sodium monofluorphosphate.
Now available Colgate® Sensitive Pro-ReliefTM + Whitening.

PRODUCT BENEFITS

Significantly greater sensitivity reduction with twice - daily brushing compared to control toothpaste with potassium ions.
Instant relief when applied directly to the sensitive tooth with the fingertip and gently massaged for 1 minute.
Can be used after the Colgate® Sensitive Pro-ReliefTM Desensitising Polishing Paste.
Caries Prevention.
Significantly whitens teeth with a high-cleaning calcium carbonate system by gently and effectively removing stains.

SHELF LIFE

2 Years

STORAGE INSTRUCTIONS

Store at room temperature. Keep out of reach of children

NAME OF PRODUCT

Colgate® Sensitive Pro-ReliefTM Toothpaste - with Pro ArginTM Technology

AVAILABLE FLAVOURS

Mint

DIRECTIONS OF USE

Apply to a gentle toothbrush making sure to brush all sensitive areas of the teeth. Brush twice daily.
Apply directly to the sensitive tooth with fingertip and gently massage for 1 minute, once a week or less frequently.

RECOMMENDED USAGE

Do not use in children 6 years of age or less. For children 7-12 years of age, use only on the advice of a dentist or doctor. Do not swallow.

CONTAINS

Pro-ArginTM Technology with arginine and an insoluble calcium compound.

INGREDIENTS LIST

Arginine, Calcium Carbonate, Sorbitol, Aqua, Bicarbonate, Sodium Lauryl Sulfate, Sodium Monofluorophosphate, Flavour, Sodium Silicate, Carmellose Sodium, Sodium Bicaronate, Titanium Dioxide, Potassium Acesulfame, Xanthan Gum, Sucralose.

PRODUCT INDICATION

For the daily oral care of patients with Dentine Hypersensitivity. Can be used after the Colgate® Sensitive Pro-ReliefTMDesensitising Polishing Paste.

MODE OF ACTION

The Pro-ArginTM technology plugs and seals open dentine tubules with a calcium-rich mineral layer.
Related Products
Colgate® Sensitive Pro-Relief™ Sensitivity Relief Pen + Sensitive Toothbrush

Gentle, proven superior cleaning for patients with dentin hypersensitivity, versus a soft, flat trimmed toothbrush.

View product

»

Colgate® Sensitive Multi-Protection

How Colgate® Sensitive Multi-Protection provides everyday protection from sensitivity

View product

»

Colgate® Sensitive

Helps strengthen teeth with cavity-fighting fluoride protection and a great mint taste that leaves your patients' mouths feeling clean and fresh.

View product

»

Colgate Sensitive Pro-Relief™ Enamel Repair

Information on the enamel strengthening toothpaste

View product

»