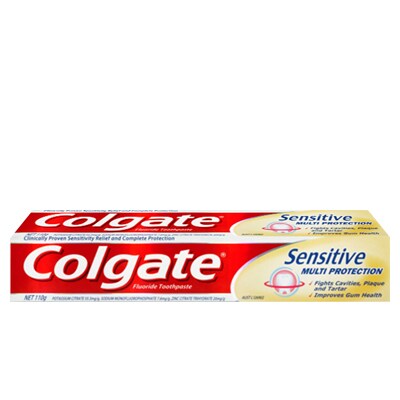 COLGATE
®
SENSITIVE MULTI-PROTECTION TOOTHPASTE
Colgate Sensitive Multi-Protection toothpaste is an everyday toothpaste for patients with dentine hypersensitivity.
Active ingredients

Potassium Citrate 5.5% w/w, Sodium Monofluorophosphate 1000 ppm F Zinc Citrate 2%

A combination of Potassium Citrate (5% w/w) and Sodium Monofluorophosphate (1000ppm) delivers dentine hypersensitivity relief.
Potassium Citrate itself has a direct desensitising effect on the pulp nerve fibres in the dentine tubules. Colgate Sensitive Multi-protection has the added benefit of Zinc Citrate (2%).
Its fresh and pleasant taste provides more than patient approval. It may help ensure improved compliance levels in users, for ongoing protection against dentine hypersensitivity

Relief from dentine hypersensitivity from an everyday toothpaste1
Provides clinically proven, everyday protection against caries

Reference:

1Hu D, et al (2004) J Clin Dent; 15: 6-10

Use

Clinically proven relief from dentine hypersensitivity; caries protection

Directions

Brush twice daily with Colgate Sensitive for healthy teeth and gums with relief from sensitivity pain.
Apply approximately 2.5cm strip of the product to a soft toothbrush, making sure to brush all sensitive areas of the teeth.
Brush thoroughly for at least one minute. Do not swallow.

Precautions

Keep out of reach of children. Not suitable for children under 12 years, unless recommended by your dental professional.

Sensitive teeth may indicate an underlying problem that may need prompt care by a dentist if pain persists.

Always read the label. Use only as directed. See your dentist if symptoms persist.
Related Products
Colgate® Sensitive Pro-Relief™ Sensitivity Relief Pen + Sensitive Toothbrush

Gentle, proven superior cleaning for patients with dentin hypersensitivity, versus a soft, flat trimmed toothbrush.

View product

»

Colgate Sensitive Pro-Relief™ Enamel Repair

Information on the enamel strengthening toothpaste

View product

»

Colgate® Sensitive Pro-Relief™

How Colgate® Sensitive Pro-Relief ™ provides instant and lasting protection from sensitivity

View product

»

Colgate® Sensitive

Helps strengthen teeth with cavity-fighting fluoride protection and a great mint taste that leaves your patients' mouths feeling clean and fresh.

View product

»